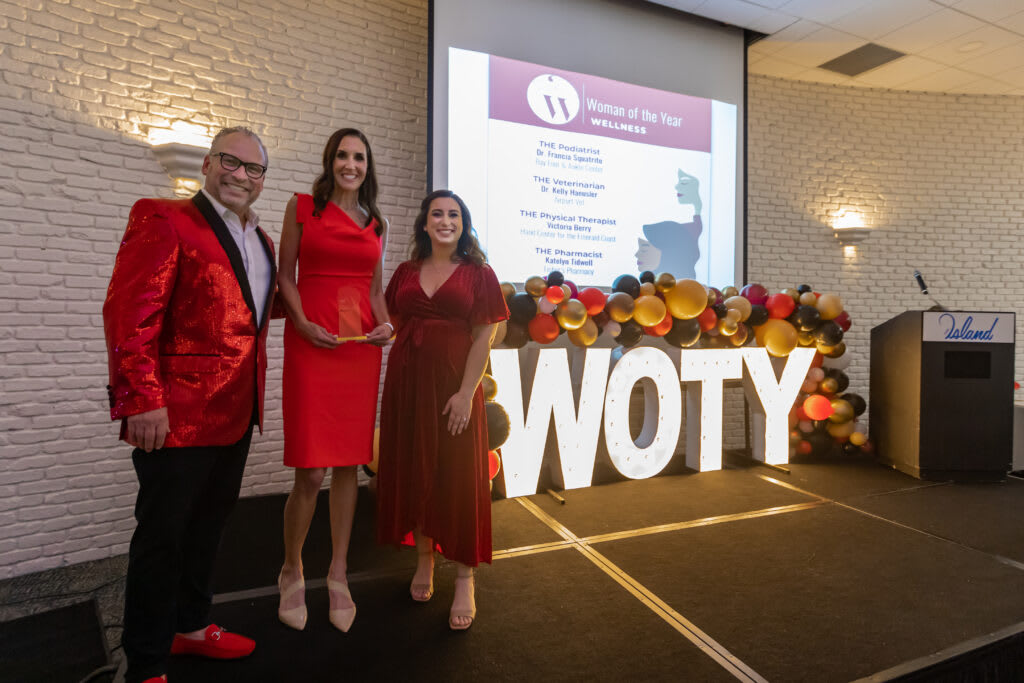 Scarlett Magazine's Woman of the Year 2022, Hilary Farnum-Fasth, with publisher Steve Barber and editor Mary Aho.
Seagrove Beach, FL (February 24, 2022) – Corcoran Reverie, a high-end real estate brokerage and an affiliate of Corcoran Group LLC, has announced broker-owner Hilary Farnum-Fasth as Scarlett Magazine's inaugural Woman of the Year for 2022.
Highly respected by colleagues and clients alike, Farnum-Fasth has used her integrity, vast market knowledge, and disciplined sales strategies to become a preeminent real estate strategist of high-end residential sales across Northwest Florida. For nearly two decades, she has used her powerful negotiation skills and relationship-building abilities to stay ahead of the curve in the dynamic and ever-changing real estate industry, while also maintaining a dedication to community involvement and giving back to several local nonprofits. Farnum-Fasth began her real estate career in the renowned communities of Regatta Bay in Destin, Florida, and WaterSound Beach along 30A, before opening her own brokerage and eventually joining the Corcoran affiliate network in 2020 as Corcoran Reverie. In addition to her successful real estate career, Farnum-Fasth is the wife of Christoffer Fasth and a mother of three: Faith (20), Ben (17), and Sebi (2).
"I am so honored and humbled to not only be named Woman of the Year but to also be nominated alongside such incredible and amazing women in our community," said Farnum-Fasth.
Scarlett Magazine is a local publication in Northwest Florida that features the latest in women's fashion, beauty, home décor, lifestyle, and health, and focuses on empowering women of all shapes, sizes, and walks of life to feel beautiful and confident. The publication's inaugural Woman of the Year Awards honor local women in the community in more than 100 categories that were voted on by the readers, including the coveted Woman of the Year Award.
"Thank you so much to all the readers who voted for me for this special award, and to Scarlett Magazine for spotlighting the incredible women in our local community," continued Farnum-Fasth. "More importantly, thank you to my fellow nominees for the amazing work that you do in our community; you are truly an inspiration for so many women, including myself."
Farnum-Fasth was honored as Woman of the Year at the Scarlett Magazine Woman of the Year Awards Gala on Thursday, February 23 at The Island Resort at Fort Walton Beach.
About Corcoran Reverie
Corcoran Reverie, an affiliate of Corcoran Group LLC – a leading residential real estate brokerage firm headquartered in New York City – is a locally owned high-end brokerage specializing in the luxury home market in Northwest Florida from Pensacola to Panama City and the coastal communities along 30A. With a 155+ agent team led by broker and owner Hilary Farnum-Fasth and partner Jacob Watkins and offices in Seagrove, Destin, The Hub 30A, and kiosk offices at Gulf Place in Santa Rosa Beach and in Pensacola Beach, Corcoran Reverie holds the #1 office ranking in Northwest Florida based on closed office sales volume of over $750 million in its first year as a Corcoran affiliate and $1.12 billion in 2021. Throughout the entire network, Corcoran is home to more than 150 offices and 5,500 agents in key urban, suburban, and resort markets nationwide. For more information on Corcoran Reverie, visit
corcoranreverie.com
.